Installing a custom stamped concrete driveway that suits both you and your home or commercial holding is one of the quickest and best ways of upgrading your property. Whether you envision a cobblestone drive that mimics cobblestone streets in Italy or would like a more modern decorative stamped driveway, or simply colored/stained concrete, we are the company that can do this for you. You also choose the color of your choice.
As a full service concrete company that specializes in decorative stamped concrete driveways, patios, walkways and other concrete surfaces we guarantee that when we install your stamped concrete driveway, you will be getting exactly what you envision and it will be done using the best products available on the market today.
Installing Concrete Driveways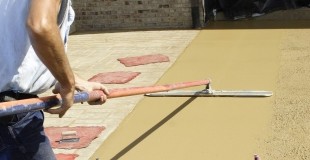 One of the most important aspects of installing a custom concrete driveway is its structural integrity. In the world of decorative or stamped concrete driveways, looks are important, but structural integrity in everything! We first look at the sub base or what is underneath the existing driveway now. If the soil is inferior due to being too expansive or not compact enough, we will remove it and install a Class 2 Road Base. This is the same road base that Cal Trans uses for all of our roads and highways, so we know it is durable and dependable. Next we focus on the reinforcing of the concrete driveway by installing 3/8" Rebar every 18" on center. Once done, a skeleton is created to hold together the concrete. Finally, after many years and thousands of driveways installed, we have created a concrete mix that is designed to be of optimal strength for driveways. All of these procedures combine to make a premium custom concrete driveway that will last for years.
Stamped Concrete Designs and Colors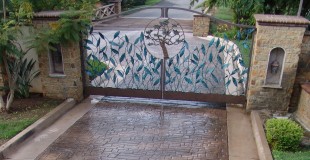 Because new technology has enabled us to use different rubber molds to stamp designs or impressions into concrete, the finishing part of the procedure is the most artistic and creative. Whether you like stone, Ashlar slate or sandstone textures, there is a concrete stamp impression that will be able to make your vision come true. Thanks to modern technology, you choose the colors, and we can reproduce them. Also, due to a new antiquing process, any project can also have a two-toned natural look. Our commitment is to work with you to design a driveway that works with your budget and how you envision your driveway.
Ready to Design Your New Driveway?
Our stamped concrete design consultants are ready and waiting to help you design the driveway of your dreams. They can answer any questions you may  have about stamped concrete  and all of our other services which include: stamped concrete patios and walkways, as well as all forms of concrete resurfacing and epoxy flooring. As our motto says, "If It's Concrete, It's Us". To get started schedule an appointment for a free estimate by emailing or call us at 805-331-4121.