Concrete Resurfacing Extends Life of Concrete
Considering replacing your concrete driveway, patio or other concrete area due to cracks or other signs of aging? Now is the time to consider giving your concrete surface a new life through a process called concrete resurfacing. Instead of replacing an entire concrete driveway or another concrete surface, which is difficult and expensive, call us at Stone Concepts. We can resurface your existing worn concrete quickly for a fraction of the cost. You can choose to simply restore your concrete surface to look like it is new again, or you can choose to have a decorative stamped concrete overlay applied to enhance the appearance of your concrete surface. Which ever one you choose, we can help you with a design that you will enjoy for years to come.
Does Concrete Resurfacing Last?
Yes. Concrete resurfacing is a permanent upgrade to your existing concrete surface. A layer of polymer-modified concrete is added to your existing concrete after it has been cleaned and repaired, if needed. Providing your concrete slab in structurally sound, the concrete overlay should last for years.
The durability and quality of the products we use is important to us. For that reason we almost exclusively use products from Elite Crete Systems, the world's leading developer and manufacturer of high performance epoxy flooring and stamped concrete overlays. For decades, Elite has been at the forefront of developing, testing and manufacturing high performance flooring surfaces and finishes. They are the market leader and our first choice for concrete resurfacing projects.
The Concrete Resurfacing Process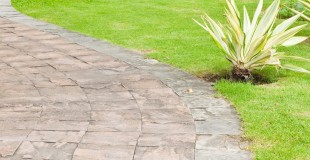 Concrete resurfacing includes cleaning and repairing the concrete slab and adding a new surface. The steps involved in resurfacing concrete are:
Cleaning: The surface is washed to get rid of dirt and debris.
Repairing Cracks: Cracks are primed, filled and then covered with a polymer concrete that is smoothed out evenly to match the rest of the concrete area.
Repairing Holes: Holes are filled in with an epoxy mortar.
Applying a New Surface: After the repairs are made, the exterior is primed.  The exterior is primed then covered with a spray-on polymer concrete which is then finished with a trowel.
Coloring and Sealing: Decorative coloring can be added to the concrete or applied after the concrete cures.  As a final step, a  seal coating is applied to protect the new surface from the elements.
Curing: Allow the concrete to cure for 48-72 hours so that it dries completely.
Stamped Concrete Overlays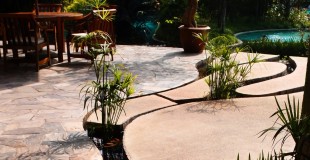 For those who want to change the look and texture of their concrete surface, we can apply a decorative stamped concrete overlay which creates the appearance of Italian Slate, European Fan, Grand Sandstone, or any other stamped concrete pattern onto your existing concrete surface.
The steps involved are:
Applying the Overlay: A thick concrete overlay is poured onto the concrete surface.
Stamping the Overlay: A stamped patterned mat, that can create textures ranging from granite to bricks, is pressed into the overlay while it is still soft.
Staining the Concrete: The concrete is stained with a mixture of acid, water and inorganic salts that reproduce beautiful colors and marbling that is found in nature.
Want to Know More About Overlays?
If you have any questions about concrete resurfacing, stamped overlays or any other service, such as fire pits, decorative retaining walls or epoxy flooring, our design consultants are ready to answer your questions and assist you in anyway.  As our motto says, "If It's Concrete, It's Us.
Please email us or call us at 805-331-4121 to schedule an appointment for a free estimate.