Epoxy Garage Flooring Coatings
Want a garage floor that looks great, is easy to maintain and is incredibly strong? Epoxy garage floor coatings is for you.  Epoxy coatings are made up of combined resins and hardeners that chemically form a rigid plastic surface that is so strong it can even be used successfully for industrial environments. These floor coatings come in a variety of colorful and shiny finishes that will fit any decor.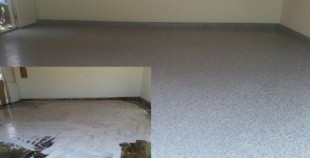 Because of the  wide variety of custom chips and paint colors, any imperfections in the concrete can be done away with. Your garage floor can be protected against stains and look like a showroom floor rather than a concrete slab. We do recommend using antiskid additives to provide you with the grip you might need on a wet day.
Epoxy Flooring Offers Durability & Beauty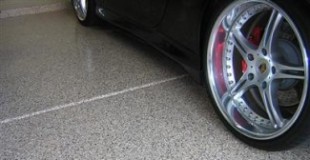 The durability of epoxy flooring is unparalleled and can protect your garage floor against water, gasoline, antifreeze, motor oil and salt. It dries to such a clear satin finish that it cleans up as easily as a kitchen counter. Besides all of that, it also resists scuffing, peeling, cracking and fading.
Using a multi-step process, we prepare your old garage floor by:
Cleaning the floor of any oil spots or other containminants
Repairing any concrete cracks or other damage
Preparing the concrete for the epoxy by acid etching the concrete.
In a matter of days your garage floor can be transformed into a shiny and stylish floor that will last for years.
Once the epoxy floor coating is applied and dried, the surface should be ready for foot traffic in about eighteen hours  and twenty-four to forty-eight hours before placing heavy items  on the it. We recommend allowing the three full days before parking vehicles on the surface.
Whether you want to transform your garage or have an industrial location that needs new flooring, epoxy floor coatings can improve your space in an amazing fashion.
Ready to Get Epoxy Flooring?
If you want to find out if epoxy flooring is right for you one of our design consultants can answer any questions you may have about epoxy flooring or any of our other services which include concrete resurfacing, decorative concrete driveway and patios as well as all forms of retaining walls.  As our motto says, "If It's Concrete, It's Us". To schedule an appointment for a free estimate email or call us at 805-331-4121.